Stainless Steel woven Wire Mesh
Materials type: stainless steel AISI316L, 316, 304L, 304 and etc.
Other material types: copper (brass & bronze), nickel, Inconel (incoloy)
Monel, Titanium, Sliver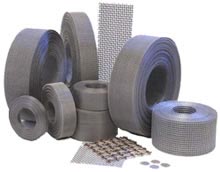 Plain steel, galvanized iron and Aluminum
Woven type: plain weave, twilled weave, plain dutch weave, twilled dutch weave, reverse plain dutch weave as well as reverse twilled dutch weave and five-heddle.
Mesh Openings: 0.003 to 10mm (other specifications on request).
Wire Diameters: 0.010 to 1.20mm (other specifications on request).
Width: up to 6mtrs.
Appli cations: Metal woven wire mesh can have been used widely in various fields such as: oil, chemical, mining industry, food, medicine, machine building, rubber and others.
Product feature: we weave mesh with high quality of flat surface, square aperture, accurate filtering rate.



Stainless Steel Wire Mesh

Stainless Steel Wire Mesh
| | | |
| --- | --- | --- |
| | | |
| Five-heddle Weave Mesh | Dutch Weave | Twilled Weave |
| | | |
| Twill Dutch Weave | Plain Weave | Reverse Dutch Weave |
SQUARE MESHES,PLAIN WEAVE OR*TWILL WEAVE

Aperture(mm)

Wire diameter(mm)

Mesh No./inch

Open area(%)

Weight(kg/sqm)

w

d

mesh

FO

kg/sqm

10.00

2.00

2.0

68

4.23

10.00

1.60

2.2

75

2.80

8.00

1.60

2.5

69

3.39

7.00

1.40

3.0

69

2.90

6.30

1.00

3.5

74

1.74

5.00

1.00

4.25

68

2.12

4.00

1.00

5.0

62

2.54

3.00

1.20

6.0

50

4.40

2.50

1.00

7.25

51

3.65

2.00

1.00

8.5

41

4.10

2.00

0.50

10.0

64

1.25

1.64

0.90

10.0

42

4.00

1.60

0.50

12.0

58

1.51

1.06

1.00

10.0

38

4.88

1.25

0.40

16.0

57

1.23

1.25

0.80

12.0

37

3.92

1.00

0.30

20.0

57

0.99

1.00

0.40

18.0

51

1.45

1.00

0.50

17.0

44

2.12

0.87

0.40

20

48

1.56

0.80

0.50

20

38

2.44

0.70

0.36

24

44

1.54

0.63

0.40

25

37

1.97

0.50

0.32

30

37

1.59

0.40

0.25

40

38

1.22

0.315

0.20

50

37

0.99

0.25

0.16

60

37

0.79

0.20

0.125

80

38

0.61

0.16

0.10

100

38

0.49

0.125

0.080

120

37

0.40

0.10

0.063

150

38

0.31

0.075

0.053

200

36

0.26

0.063

0.04

250

37

0.20

0.042

0.036

325

29

0.22

0.036

0.028

400

32

0.16

0.025

0.025

500

25

0.16
PLAIN DUTCH WEAVE OR*TWILLED WEAVE

nominal Micron rating

Mesh No./inch

Weight(kg/sqm)

mu

mesh

kg/sqm

300

12x64

4.10

200

14x88

3.15

150

24x110

2.70

100

30x150

1.60

80

40x200

1.30

50

50x250

1.00

25

80x700*

1.20

32

120x400*

0.75

20

165x800*

0.71

15

165x1400*

0.70

25

200x600*

0.50

10

200x1400*

0.68

5

325x2300*

0.47
REVERSE DUTCH MESH

Mesh No./inch (warp/weft)

Wire dia. (warp/weft)

48×10

0.5×0.05

110×14

0.35×0.45

120×16

0.36×0.45

150×18

0.28×0.45

160×18

0.28×0.45

160×21

0.28×0.37

180×18

0.26×0.4

200×40

0.17×0.3

240×40

0.15×0.3

320×40

0.14×0.27

290×76

0.09×0.19

400×120

0.06×0.10

625×104

0.04×0.15

Other specifications we can produces according to customs' requirements
FIVE HEDDLE WEAVE MESH

Mesh(inch)

Wire Diameter (mm)

Aperture(%)

Weight(kg/m2)

108 X 59

0.152mm

25

0.97

0.16mm

20

1.08

110 X 60

0.16mm

19

1.10

38 X 38

0.15mm

61

0.43